Formerly "Dale & Adam's Track Schedule"
The original "Track Schedule" was created by Dale Smith in 1994. It was a calendar of drivers education (DE) events for the North East. It was originally a 'paper' format given to the North East Porsche Club region Presidents at the bi-annual Presidents meeting for Zone 1. They in turn copied and distributed the list to their region's "track junkies". In 1999, I volunteered to make it web based.
Starting in November 2006 the website has moved from a static format into a database driven format with many features that I believe "Track Junkies" have really wanted (even if they didn't know it until now)...
The site now covers all of North America. Users will be able to view as much as or little information as they want by selecting Regions, States & Tracks. Users can "mark" events, as "I'm Going", that they want to attend and show their Friends which events they are planning to go to, and visa versa.
- Adam McInnis -
---
- Dedicated to the Memory of Dale Smith -
(Established 1994)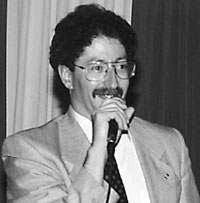 I'm very sad to announce the passing of Dale Smith on September 19, 2001. Dale passed away from an illness and will be sorely missed by all of the North East Porsche Club regions and others. Many of you probably know him and his wife Sue Marsh Smith from the drivers education events. Dale was always eager to lend a hand to any region to help run a very smooth event. I know I will miss his unique sense of humor and friendship. I hope that we will continue to see Sue at the track. If you looked up the term "Track Junkie" in the dictionary, you would see a picture of her in there as they usually attended 40+ track days per year. Amazing!
--- Adam McInnis • Jersey Shore Region • Sept 2001 ---
© 2006 On-Core Software LLC
Site designed by Adam McInnis & Ernesto Corvi
Logo designed by Jose DeLaCruz • ID Signs